May 11, 2022 – Renewal By Andersen | Esler Companies Is A 2022 Top Workplaces Culture of Excellence Five-Category Winner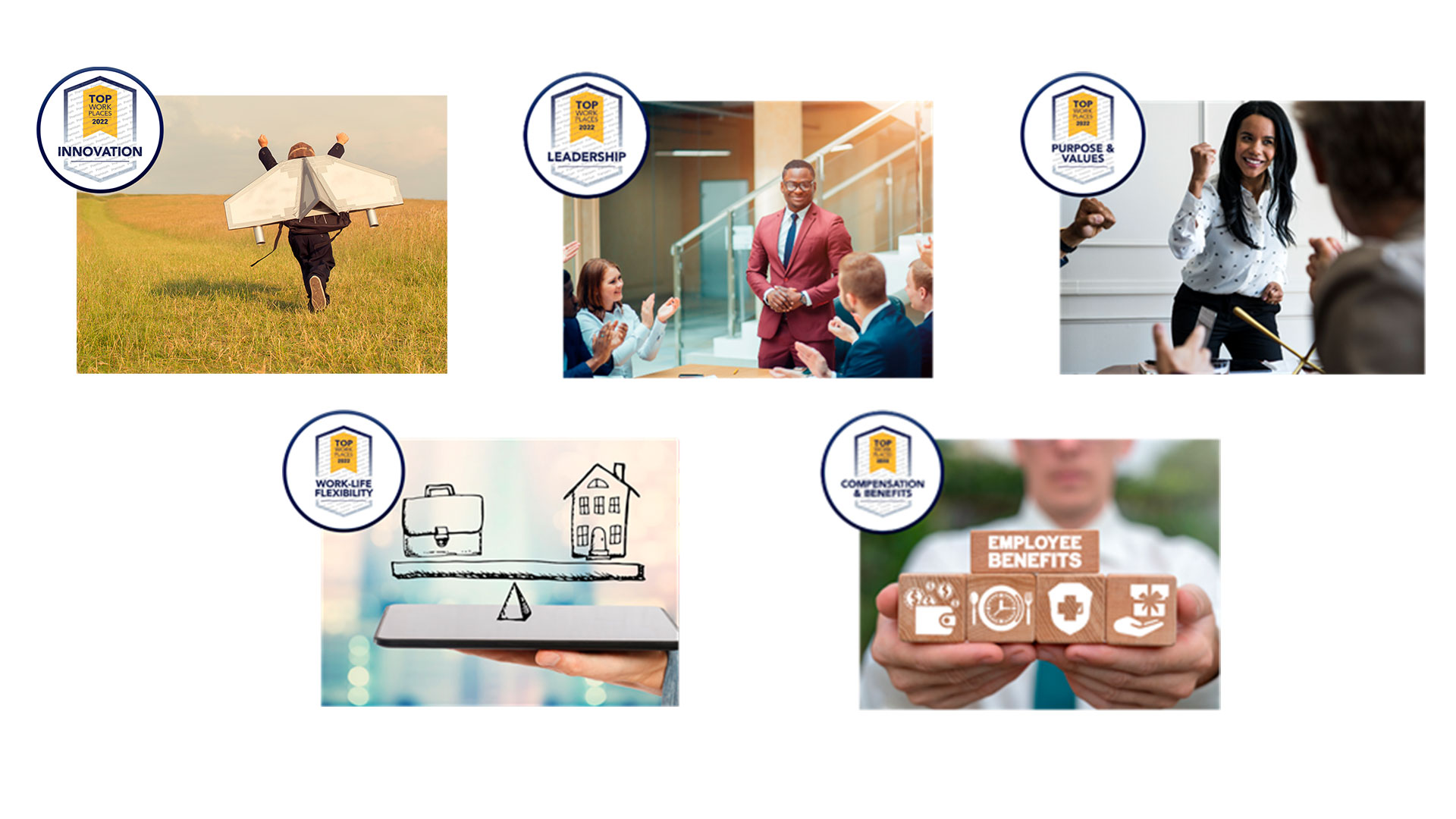 Esler Companies is honored to announce that the company has been named recipients of Top Workplace's Culture of Excellence awards in all categories.  Qualification is based solely on employee feedback gathered through a third-party survey administered by employee engagement technology partner Energage, LLC.
The anonymous survey uniquely measures 15 culture drivers that are critical to the success of any organization: including alignment, execution, and connection, just to name a few. Renewal by Andersen | Esler Companies soared to the top pulling in all five awards in the following categories: Innovation, Compensation & Benefits, Leadership, Purpose & Values, and Work-Life Flexibility.
Christina Schmit, Director of Talent & Culture for RbA | Esler Companies commented:
"The health and happiness of our fellow teammates remains our top priority.  We're always working to improve the teammate experience, and one of the best ways to do that is to ask our teammates directly about their experience with our company.  These surveys are a part of Voice of the Teammate, a program designed to effectively share feedback to better understand teammates' experiences, which in turn will help us learn how we can improve them. Feedback is a gift, and it's how we learn – we always want our teammates to share what's on their minds and in their hearts."
Now more than ever, companies need to authentically represent their brand to current employees and to job-seekers. Eric Rubino, Energage CEO commented:
"The employee experience needs to be on the mission-critical list. Leaders who embrace a people-first culture will benefit greatly. By giving employees a voice and showcasing your authentic culture through employer branding, organizations can attract those job seekers who complement their culture. Culture drives performance."
View the full list of award winners in these five categories:
Top Workplaces for Purpose & Values 2022
Top Workplaces for Compensation & Benefits 2022
Top Workplaces for Work-Life Flexibility 2022
Top Workplaces for Innovation 2022
Top Workplaces for Great Leadership 2022
Congratulations to the team at Renewal by Andersen | Esler Companies.
About RbA/Esler Companies
Renewal by Andersen is the full-service window-replacement division of Andersen Corporation, the owner of the most trusted family of window brands in America. RbA was founded with a mission to redefine the industry and to offer a different—and better window-replacement experience. Renewal by Andersen has seven company-owned locations, and over 100 independently owned "affiliates" across the United States. Esler Companies is the holding company for a fleet of the top Renewal by Andersen (RbA) "affiliates" in Arizona, Colorado, Oklahoma, Greater Philadelphia, Central Texas, Northern Texas, Southern New England, and a sales and marketing 'engine' in Northborough, Massachusetts. With the addition of Southern Maine & New Hampshire, Esler Companies now includes 8 territories across the United States.
Esler Companies is hiring! Visit the career page at www.esler.com
Congratulations to the team at Renewal by Andersen | Esler Companies.
About Energage
Making the world a better place to work together.™
Energage is a purpose-driven company that helps organizations turn employee feedback into useful business intelligence and credible employer recognition through Top Workplaces. Built on 14 years of culture research and the results from 23 million employees surveyed across more than 70,000 organizations,  Energage delivers the most accurate competitive benchmark available. With access to a unique combination of patented analytic tools and expert guidance, Energage customers lead the competition with an engaged workforce and an opportunity to gain recognition for their people-first approach to culture.  For more information or to nominate your organization, visit energage.com or topworkplaces.com.