October 2022 – The Companies Director of Safety shares resources and generates awareness on how to best reduce fire risk for ourselves, and our loved ones – cats/dogs, maybe turtles, included.
"We care about each Esler Companies teammate and all of their extended families."- Josh Besnoff, Director of Safety at the Esler Companies.
"The "Fire won't wait. Plan your escape™" campaign works to educate everyone about simple but important actions they can take to keep themselves and those around them safe from home fires. The Company shared information such as today's homes burn faster than ever. People may have as little as two minutes (or even less time) to safely escape a home fire from the time the smoke alarm sounds. The ability to get out of a home during a fire depends on an early warning from smoke alarms and advance planning.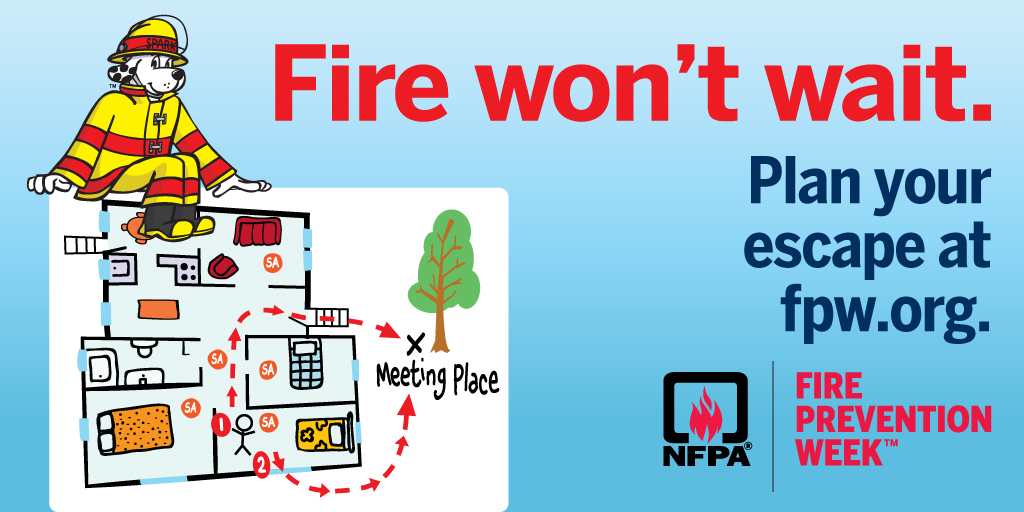 About Fire Prevention Week
Since 1922, the NFPA has sponsored the public observance of Fire Prevention Week. In 1925, President Calvin Coolidge proclaimed Fire Prevention Week a national observance, making it the longest-running public health observance in our country. During Fire Prevention Week, children, adults, and teachers learn how to stay safe in case of a fire. Firefighters provide lifesaving public education in an effort to drastically decrease casualties caused by fires.
Fire Prevention Week is observed each year during the week of October 9th in commemoration of the Great Chicago Fire, which began on October 8, 1871, and caused devastating damage. This horrific conflagration killed more than 250 people, left 100,000 homeless, destroyed more than 17,400 structures, and burned more than 2,000 acres of land.
About Esler Companies
THE RENEWAL BY ANDERSEN | ESLER COMPANIES STORY
Renewal by Andersen is the full-service window-replacement division of 115- year-old Andersen Corporation, the owner of the most trusted family of window brands in America. RbA was founded with a mission to redefine the industry and to offer a different—and better—window-replacement experience. Renewal by Andersen has seven company-owned locations, and over 100 independently owned "affiliates" across the United States.
The Esler Companies is the holding company for a fleet of the top Renewal by Andersen (RbA) "affiliates" in Arizona, Colorado, Oklahoma, Southern Maine, Greater Philadelphia, Central Texas, Northern Texas, and Southern New England as well as Telefluent, its Inside Sales and marketing 'engine' in Northborough, Massachusetts.