March 1, 2023 — This month, Esler Companies has announced its partnership with Bucketlist, a reward and recognition social platform.
Buckletlist is a place where teammates can engage with each other across Esler's nine locations,
recognize and reward people for individual contributions, and give teammates choice when it comes to selecting rewards. The Marketplace available has an outstanding array of gifts and experiences. Teammates can redeem points, called "Esler Bucks," for experiences like skydiving, foodie tours, massages, escape rooms, golf outings, and more to satisfy the adventurer in everyone. With an award- winning company culture, recognized as a Top Workplace USA in 2022, Esler Companies strives to raise the bar each year to create a "World Class Teammate Experience."
Esler Companies is focused on making sure teammates are happy at work by offering a variety of programs. Kindness is recognized with the Ambassador of Love program. Anniversaries, called Esler-Versary, are in place to recognize teammates' years of service and dedication to the Esler community. The non-profit branch of the company, Window of Giving, focuses on community giving and teammate volunteering. These programs coincide with Esler Companies' four core values.
Love of self

Be your best self

Amazing company culture

Unparalleled customer service
These core values are at the heart of The Company, which is why they created a dedicated team who's sole focus is to design programs that meet teammates where they are instead of just where the business is. The People Team, closely partnered with Esler Cos' outstanding HR, HRIS, & Safety teams, provide the framework for teammates to thrive both personally and professionally with Esler Cos.  Adding Bucketlist to the company's already impressive benefits package will give teammates a simpler, more robust experience and help propel Esler Cos. forward to successfully navigate the demands placed on all businesses in today's changing market.
Aside from the strategic benefits, Bucketlist is- well, fun. Every teammate's first experience as a new hire begins with appreciation. They're instantly welcomed into the company and have a space to cheer each other on. Terrific things are already happening on BuckletList, with promotion celebrations, new baby announcements, Happy Birthdays,  thank you's and lots of GIFs.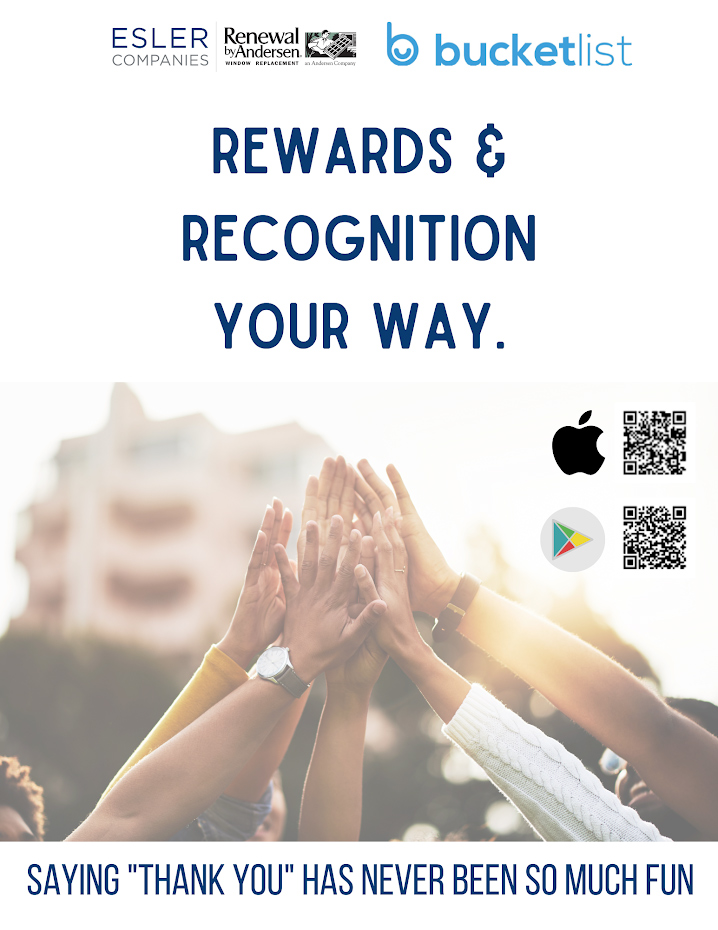 "For making the most amazing cupcakes. You always go above and beyond with your beautiful creations, and you generously bake long hours to make the most exquisite designs. Thank you!"
"Jake is always going the extra mile for customers! This week he helped a family that he visited for a window consultation. Not only did he get them groceries, but he picked up some books and toys for their kids! Thank you for all you do Jake!!"
"Thank you all so much for your help with the Homeless Alliance workstations today. Your selflessness for our community and your team did not go unnoticed. I'm proud to be part of Team Oklahoma everyday but even more so today ♥️."
"Happy Birthday
🎂
Wishing you so much happiness."
Congratulations to the Esler Companies for celebrating accomplishments and milestones in a meaningful way!
About Bucketlist
Bucketlist transforms your company culture.  With a select staff dedicated to your company's success, we provide the ultimate employee rewards and recognition platform. Employee retention tops the list of challenges faced by HR departments, and acquiring talent is the No. 1 priority for the vast majority of recruiters. At the same time, employees say the culture of their workplace is just as important – and sometimes more important – than the size of their paycheck.  Ultimately, offering an experiential rewards program can help you create a cycle of success for your business. Rewarding your workforce creates a constructive company culture of engaged employees, which is the key to business success and profitability. Please visit Bucketlistrewards.com
About Esler Companies
THE RENEWAL BY ANDERSEN | ESLER COMPANIES STORY
Renewal by Andersen is the full-service window-replacement division of 115- year-old Andersen Corporation, the owner of the most trusted family of window brands in America. RbA was founded with a mission to redefine the industry and to offer a different—and better—window-replacement experience. Renewal by Andersen has seven company-owned locations, and over 100 independently owned "affiliates" across the United States.
The Esler Companies is the holding company for a fleet of the top Renewal by Andersen (RbA) "affiliates" in Arizona, Colorado, Oklahoma, Southern Maine, Greater Philadelphia, Central Texas, Northern Texas, and Southern New England as well as Telefluent, its Inside Sales and marketing 'engine' in Northborough, Massachusetts. Esler Companies is hiring! Visit the career page to explore opportunities.