June 22, 2023 – This May, Esler Cos. teammates in its Southern New England office rallied together in honor of Mental Health Awareness Month. The Window of Giving Committee, made up of teammate volunteers, led a multi-faceted campaign to support a teammate and honor her daughter who suffered, and ultimately succumbed to, depression at the age of 15.
Patty Costello recalled that on the outside her daughter Devin was "That kid.' The smiley, happy go lucky, everyone's friend, goofy, silly, artsy, musical, kind, respectful student, kid. On the inside 'that kid' was full of anxiety, darkness, sadness, self-loathing, exhaustion, and hopelessness.  But no one knew."
In response to learning about Devin's journey, the Southern New England Window of Giving team looked for a way to honor Devin and provide support to others who might be suffering the same way. 
First, the team hung posters along the halls of the SNE office that provided vital information about mental health. Teammates were then invited to make their own Affirmation Butterflies. These paper butterflies hung alongside posters creating a beautiful, positive space known as the Butterfly Hall. Each butterfly contained a positive message or affirmation to show teammates the support they have within the Esler Cos. community. 
Next, SNE Teammates participated in a selfie campaign. For each photo received, a donation was made to a non-profit focused on mental health. Including elements related to mental health in the selfie- things like signs, bracelets, family, and animals, resulted in a larger donation.  The campaign has proven to be a resounding success as the Committee received an astounding 234 selfies.
The team also had a specialist present a seminar on stress management that included personalized exercises providing a space for teammates to have an honest and open conversation about mental health. Flyers featuring mental health related topics such as "The Monday Blues," postpartum depression, being kind to your mind, and the art of saying thank you, were sent to each teammate and distributed throughout the office.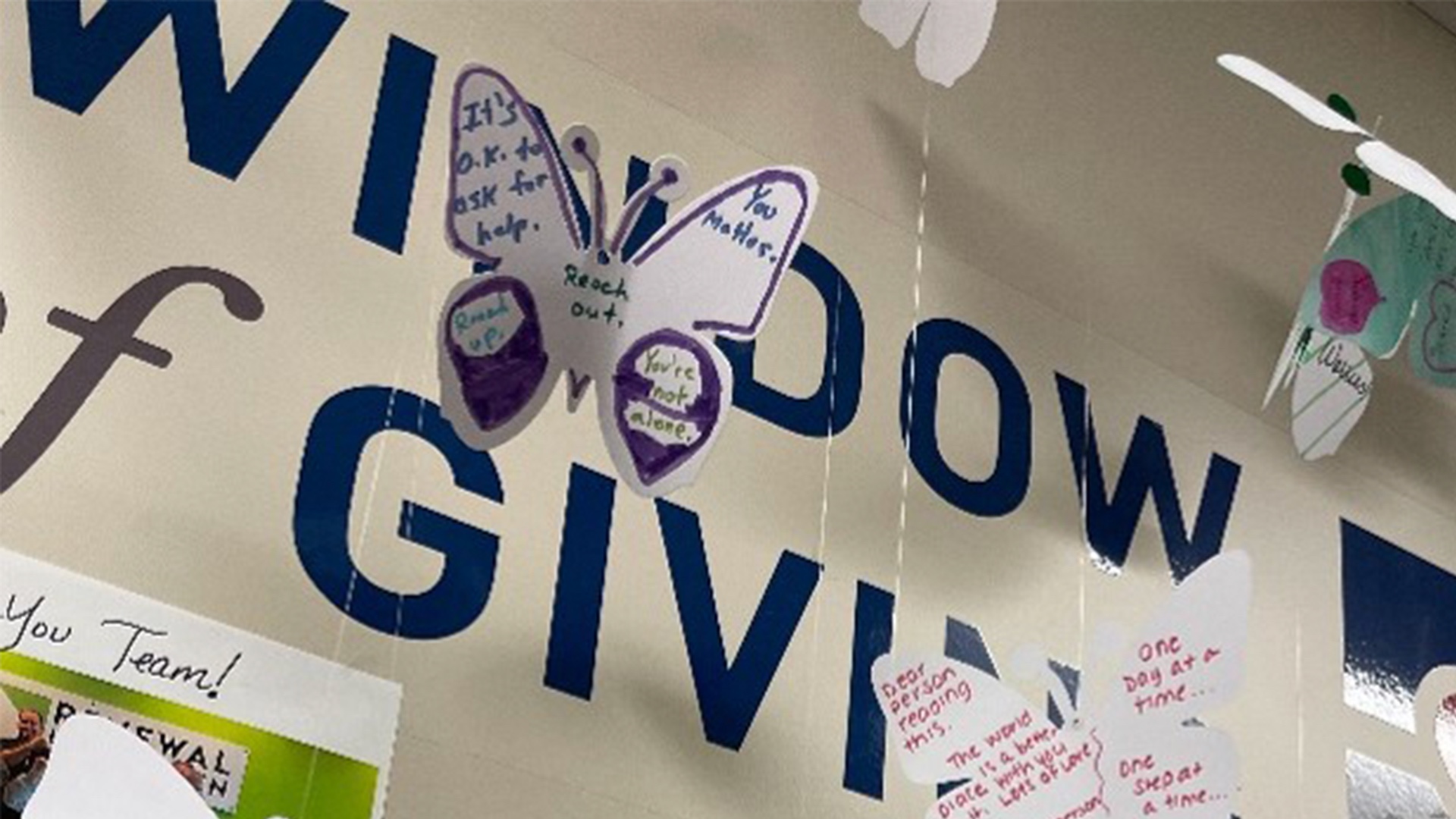 Finally, Esler Companies made donations to two organizations in support of mental health services. First, a donation was made to the Olivia Deaton Foundation in loving memory of Devin Costello, daughter of Esler Cos. teammate Patty Costello. Patty graciously accepted the donation on behalf of her daughter. Bradley's Children Hospital also received a donation to help support the continued growth and support of young, healthy adults. 
SNE teammate Jessica Desrosiers, head of Southern New England's Window of Giving committee noted:
"In true Esler fashion, the entire SNE team came together and put on the biggest, best display and brought awareness to the forefront which allowed open honest conversation between team members that normally wouldn't have come up in everyday conversations. Listening to Patty tell her story about Devin's journey, silenced the entire room, and brought an abundance of tears.  Being part of this event reiterated why this initiative was so important and why we should always act with love."
Esler Cos. has always been dedicated to the health & happiness of its teammates, both in and out of the office. This attention to mental health, made even more essential in the last few years, has become a focus for the organization whose core value is doing business with love. Giving teammates the freedom to choose which Causes to support is not only a sign of respect by Esler Cos. to its teammates but has resulted in meaningful experiences for the team and much needed support in the communities they serve. 

About Esler Companies
THE RENEWAL BY ANDERSEN | ESLER COMPANIES STORY
Renewal by Andersen is the full-service window-replacement division of 115- year-old Andersen Corporation, the owner of the most trusted family of window brands in America. RbA was founded with a mission to redefine the industry and to offer a different—and better—window-replacement experience. Renewal by Andersen has seven company-owned locations, and over 100 independently owned "affiliates" across the United States.
The Esler Companies is the holding company for a fleet of the top Renewal by Andersen (RbA) "affiliates" in Arizona, Colorado, Oklahoma, Southern Maine, Greater Philadelphia, Central Texas, Northern Texas, and Southern New England as well as Telefluent, its Inside Sales and marketing 'engine' in Northborough, Massachusetts. Esler Companies is hiring! Visit the career page to explore opportunities.