October 2023 – In a heartwarming display of compassion, Esler Cos recently hosted events in all 10 locations centered around a lantern lighting called Luminaria. Events ran parallel with Renewal by Andersen's fundraising efforts to support Cancer Awareness Month and the American Cancer Society creating a moving tribute to those affected by cancer.
Teammates lit lanterns in honor of friends and family going through cancer treatment, have survived cancer, or have lost their lives to cancer. Each lantern was lovingly decorated by teammates, showcasing their creativity and dedication to the cause. Vibrant colors, heartfelt messages, and intricate designs adorned the lanterns, reflecting the diversity and unity within the company. These personalized lanterns not only added a touch of individuality to the event but also demonstrated the collective effort of the Elser Companies in coming together to make a difference.
"It was a great event; I know people really appreciate the opportunity honor and memorialize their loved ones… Having an opportunity to share the love we feel for our friends and family always brings such an amazing brightness to the office. It's events like these that remind us that the "With Love" Motto isn't just words on a paper, it's how we live our day to day lives." 
– Kara Neumann, CTX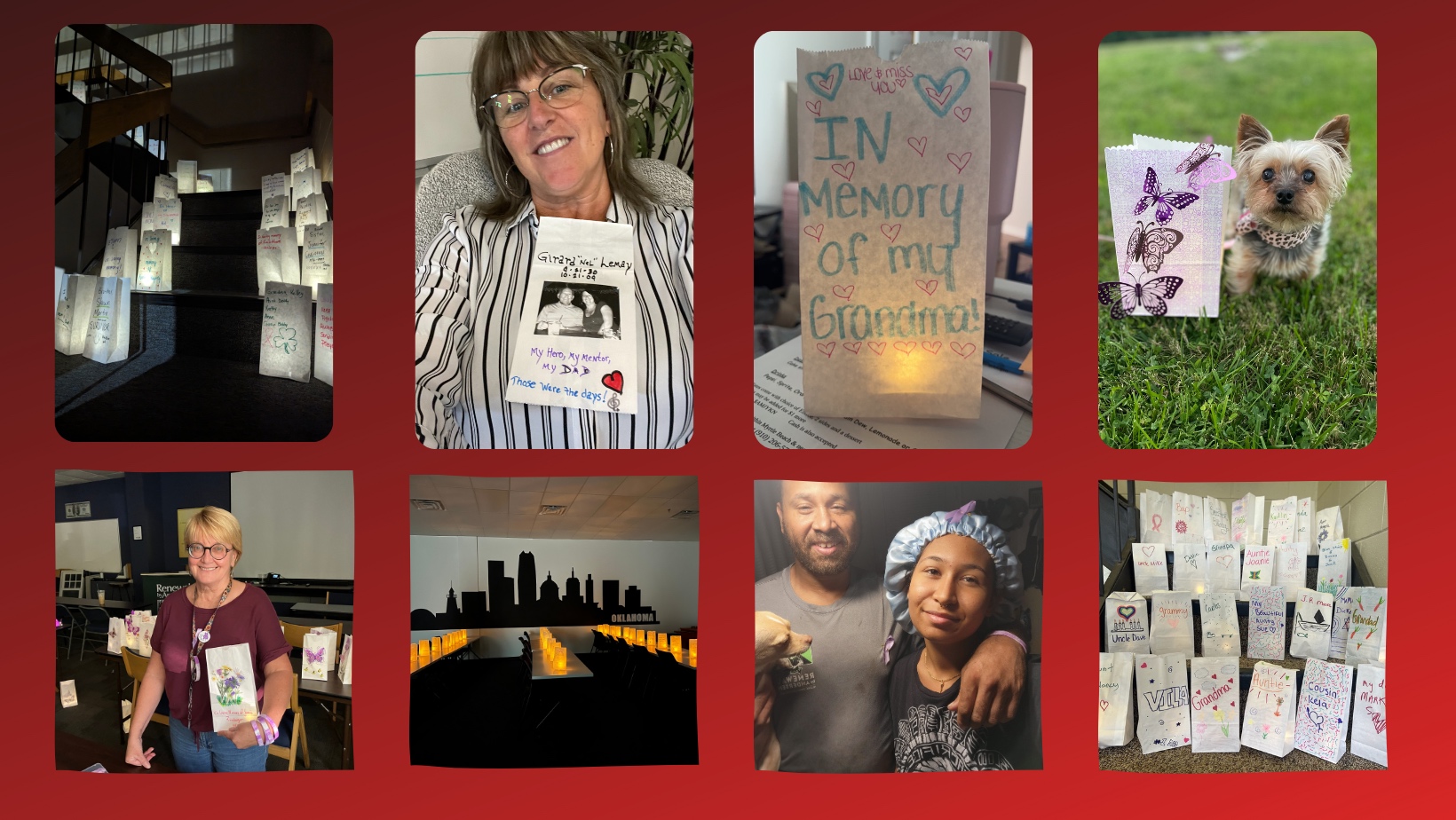 The luminaria lighting ceremonies began with the lighting of the lanterns followed by a moment of silence to honor those affected by cancer. These flickering lights represented more than mere flames; they symbolized the courage of cancer survivors, the memory of those who have passed away, and the hope for a future free from this devastating disease.
"It was beautiful to see the participation and love in everyone's eyes here in Southern New England. Our sales room was dimmed out, the lights were bright, and everyone's eyes were glowing all to tell a personal story of their connection to this event. There was so much love in the room and it truly felt like a big family!" 
– Natalie Meyer, SNE
Even as the ceremony ended the impact of the Luminaria event continued to shine brightly. Esler Cos donated $5,000 on behalf of each participating location across the network that culminated in a $50,000 donation to the American Cancer Society. The Elser Companies' participation will be remembered not only for the funds raised but also for the sense of unity and empathy it instilled in the hearts of all who attended.
About Esler Companies
THE RENEWAL BY ANDERSEN | ESLER COMPANIES STORY
Renewal by Andersen is the full-service window-replacement division of 115- year-old Andersen Corporation, the owner of the most trusted family of window brands in America. RbA was founded with a mission to redefine the industry and to offer a different—and better—window-replacement experience. Renewal by Andersen has seven company-owned locations, and over 100 independently owned "affiliates" across the United States.
The Esler Companies is the holding company for a fleet of the top Renewal by Andersen (RbA) "affiliates" in Arizona, Colorado, Oklahoma, Southern Maine, Greater Nevada, Greater Philadelphia, Central Texas, Northern Texas, and Southern New England as well as Telefluent, its Inside Sales and marketing 'engine' in Northborough, Massachusetts. Esler Companies is hiring! Visit the career page to explore opportunities.